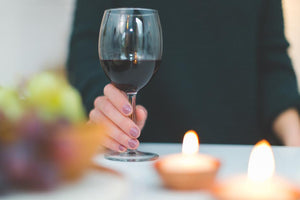 Hand Poured Soy Wax Melt
Unwind from everyday stressors with a Girls Night candle. Since we can't always come home and have a glass of wine, I decided to recreate it into a candle. 
Girls Night is a boozy, sophisticated twist to the classic black cherry. Top notes of black currant and apple brighten the red wine and black cherry heart of this fragrance. Aged oak and amber base notes highlight the merlot, while vanilla balances the sweet finish. Patchouli and nutmeg essential oils enhance the wood and spice notes for added depth. 
This fragrance oil is infused with natural essential oils, including patchouli, nutmeg, and davana.
Note Profile:
Top: Black Currant, Apple
Middle: Black Cherry, Red Wine, Clove
Base: Oak, Amber, Vanilla

Remember each wax melt is individually hand poured and minor imperfections may exist but won't affect the quality of your wax melt.